USA & INTERNATIONAL
DV8 USER-GUIDE
Read this guide thoroughly and if it's your first time using the device, be sure to watch the "Getting Started" video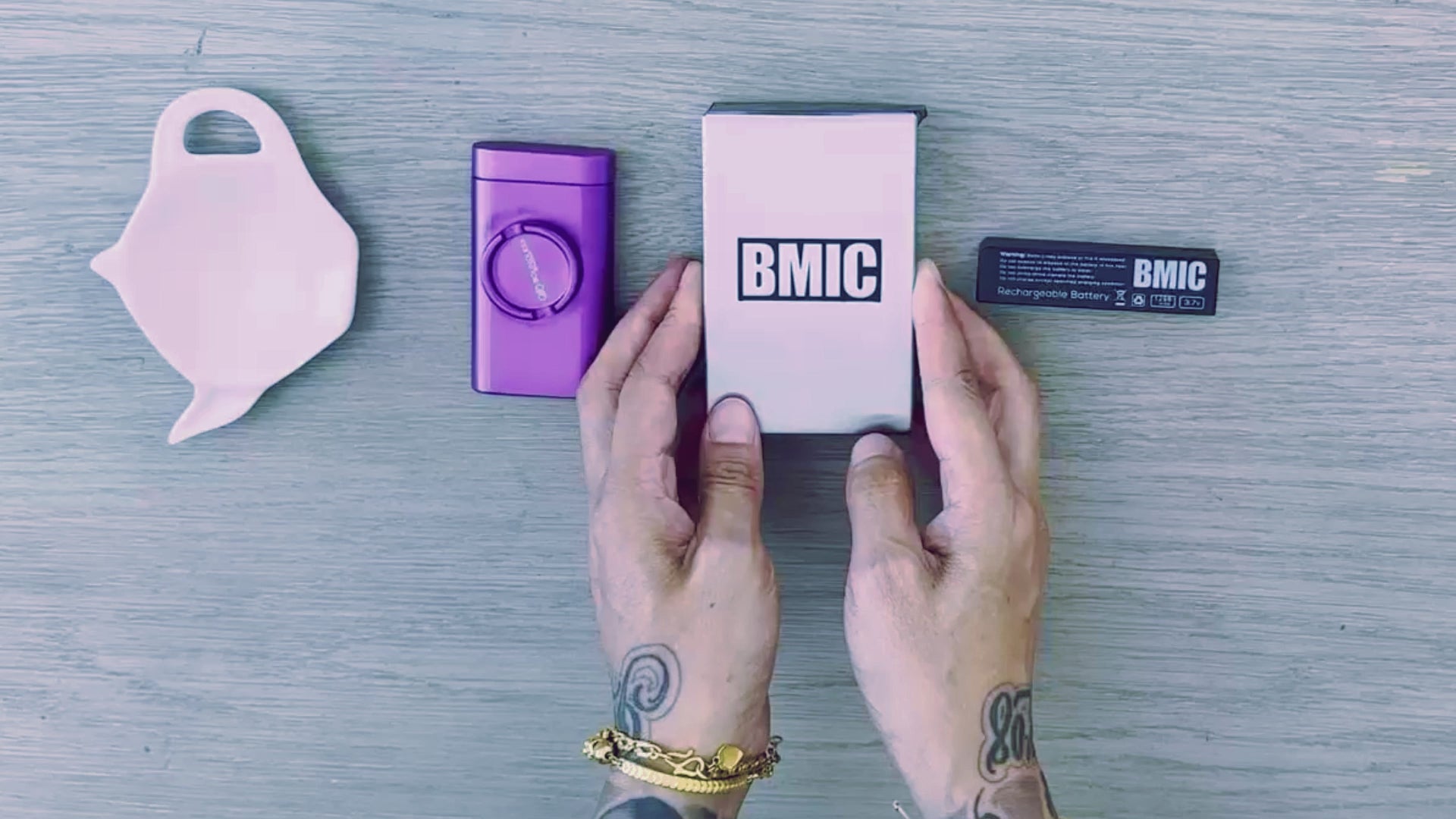 GETTING STARTED
TIPS TO IMPROVE YOUR EXPEREINCE
1) Our personal "sweet spot" is between 425-435°F
2) Before using, let the device sit and settle for about 20 seconds to allow hot air to fill the oven
3) Take long, steady pulls instead of short, hard ones
MORE TIPS HERE
QUICK-START GUIDE
Starting your session
1) Insert Battery (by default, DV8 will be in stand-by mode)
2) Load your pre-grinded material (the finer, the better. Load to the top of the black line or a little above and gently pack)
3) Select desired temperature
4) Hard-press the trigger for 4 seconds. The device will vibrate and you will see the oven icon blink. This means that the device is working it's way up to the selected temperature. The icon will stop blinking/stay solid and device will vibrate again once the desired temperature is reached. At this point, the device is now ready to be used
Quick tips for optimal vapor/flavor
1) Our personal sweet spot is around 425-435°F
2) Long-slow pulls are more optimal than short-fast ones and will produce more vapor
3) Wait 20-30 seconds to allow the oven to be filled with hot-air before vaping
Note: The oven/chamber will stay heated for 3 minutes after the vibrating alert. So you basically have 3 minutes to complete your session before it will automatically shut-down (a 3 minute session is set by default and can't be changed). To re-start or continue a session, hard-press the trigger for 4 seconds
Ending your session
There are 2 ways to end your session:
1) Do nothing and let the device auto-activate stand-by mode. The device will then start to power down and decrease in temperature.
2) Manually activate stand-bye mode by hard pressing the trigger for 4 seconds
Powering on/off
Click the trigger 5 times within 2 seconds
TABLE OF CONTENTS
1) Loading your material
2) Stand-by mode
3) Toggling between C° & F°
4) Precise temperature control
5) Using the storage pods & stir-tool
6) Charging
7) Recommended cool-down
8) Battery-safety
9) Isopropyl Alcohol Warning
10) Zirconia drip-tip & ceramic chamber
11) Warranty
12) Session time
13) Main screen indicators

WARNING
THINGS TO REMEMBER
CONTENTS
1) Loading your material
DV8 works optimally when you finely-grind your material and allow it to dry for sometime before consuming.

2) Stand-by mode
While the device is in stand-by mode, the oven icon will NOT be present, the oven will not be heated and the device will not be using any battery life.
To activate / deactivate stand-bye mode at any time, hard press the trigger for 4 seconds.
3) Toggling between C° & F°
Hard-press the "up" and "down" buttons together for 1 second

4) Precise temperature control
The DV8 utilizes the Boundless Temperature Control Chipset. Temperature control range is 88 - 464 degrees Fahrenheit

5) On-board storage pods & stir tool
The onboard stir tool is located inside the main compartment. This tool can be used to stir your material during the session and help with emptying the material once the session is over. The storage pods allow you to keep pre-grounded material in the device when you're on-the-go for easy access.
Note: You can drop the pod directly into the chamber with your pre-loaded material and vape. If vaping with the pods, we recommend setting the temperature 450°+ F (for best results, load your material directly into the chamber)
6) Charging
The DV8 features Type-c fast charging. It is recommended to use the cable that is provided. You can expect an average of 5-6 sessions (7-10 pulls per session) on a full charge. The DV8 fully charges in about 40 minutes
7) Recommended cool-down
It is recommended to let the device cool down after 2 consecutive sessions to ensure a prolonged lifespan of the unit. Do not let it overheat
8) Battery safety
Do not use the device if the battery is wet or damaged in any way. Always store batteries in a safe place away from anything that could potentially damage it and cause it to explode.
9) Isopropyl alcohol warning
Be advised when using isopropyl alcohol to clean your DV8. It is recommended to only use isopropyl alcohol for cleaning the chamber or the zirconia cooling path.
10) Zirconia drip-tip & ceramic chamber
The Zirconia mouthpiece sits on top of the ceramic herb chamber and can be removed by lifting up on the mouthpiece lip near the air path exit. This is how you access the Ceramic Chamber
11) Warranty
BMIC warrants this DV8 branded device against defects in materials and workmanship under normal use for a period of one (1) year from the original date of retail purchase by the original end-user. Original bill of sale is required to redeem the warranty
For more warranty info visit our Policy Page
12) Session time
When the device reaches your selected temperature and vibrates, you have approximately 4 minutes before the device will automatically activate stand-bye mode and start the cool down process.
13) Main screen indicators
1) Battery Indicator
2) Oven / Chamber Icon
Off (not showing) = device is in stand-bye mode
Blinking = Actively working it's way to the selected temperature
On (steady) = In current session & oven is at selected temperature
3) Current temperature

WARNING: THIS DEVICE IS USE AT YOUR OWN RISK
Handling the DV8
• Do not drop, deform, bend, crush, puncture, incinerate, microwave, shred, paint, or insert foreign objects into a DV8 or try to repair or modify the DV8 yourself
• Do not clean the DV8 other than instructed
• Do not use a damaged DV8 charger or non-BMIC charger. Incompatible chargers may carry different voltages which may be a fire hazard
• Use caution when handling the DV8 as the heating chamber gets very hot. Refrain from direct contact with the heating chamber when hot or heating up
• Do not leave the device unattended when it is powered on or while the device is still hot
• Do not leave in extreme temperatures
• Do not charge on carpet or bare rug
THINGS TO REMEMBER
• Always load your material first before heating the chamber
• Device will vibrate when it's powered on/off and when the desired temp is reached
• At any time can you press and hold the main trigger for 2 seconds to activate / de-activate stand-by mode
(Example - you're finished with your session or wish to begin one)
• 4 Minute session time - The device is set to keep the chamber heated for 4 minutes after the desired temperature has been reached. After 5 minutes, the device will automatically activate stand-by mode and start to shut down
• Do not use if the battery is damaged in any way
• Always store your batteries in a safe location away from anything that could damage them
• Turn the device off if you are not planning on using it for a while to avoid accidental activations and to conserve battery life
• For use with dry-herb material only
• Do not use in extreme temperatures
INTERNATIONAL USER-GUIDES